Katwijks Museum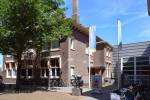 Located in the heart of the historic fishing village Katwijk, the Katwijks Museum combines a unique collection of paintings, ship models, and local history. This museum offers fascinating insights into the maritime history, art, and culture of Katwijk.
What to Expect at the Katwijks Museum?
Art Collection: The museum houses an impressive collection of paintings and artworks that capture the unique atmosphere of local fishing life and the sea. In addition to Dutch painters such as Jan Toorop, Willy Sluiter, and B.J. Blommers, numerous foreign colleagues also lived and worked in Katwijk. Well-known names include Hans von Bartels, German Grobe, and Morgenstjerne Munthe. Together, they shaped the artist colony of Katwijk.
Maritime History: Discover the rich maritime history of Katwijk through authentic ship models, fishermen's clothing, and tools that reflect the harsh life at sea.
Top Attractions: Highlights of the Katwijks Museum include:
- The gallery featuring seascapes and depictions of fishing life.
- The collection of traditional costumes and textile art.
- The restored interior of a typical Katwijk fisherman's cottage.
- The extensive collection of historical photos and documents about Katwijk.
Cultural Heritage: The museum also highlights the cultural traditions and daily life in Katwijk throughout the centuries, with a special focus on costumes and local customs.
Temporary Exhibitions: In addition to the permanent collection, the museum regularly organizes temporary exhibitions on various topics, ranging from historical events to contemporary art.

Discover the Hidden Treasures of Katwijk
Experience the charm and richness of Katwijk's maritime history, art, and cultural heritage.
Furthermore Katwijks Museum is near the following sights: Mill and Lake Tour from Katwijk (±250 m), Lighthouse Vuurbaak Katwijk (±550 m), Jachthaven Katwijk (±900 m), Subtropical swimming pool Aquamar (±1,1 km) & Space Expo (±2,1 km).
For information:
Voorstraat 46, Katwijk
web.
Website