Katwijks Museum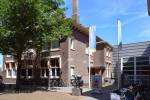 The [i]Katwijk Museum[/i] is situated in the centre of the old fishing village and is housed in a large and recently extended building complex. A monumental villa, built in 1913 by a ship-owner, is the centre point of this complex. The museum collection combines a unique collection of paintings of Dutch and foreign painters who were drawn to the artist's colony in Katwijk, with a fine display of local and regional objects of interest.
Furthermore Katwijks Museum is near the following sights: Lighthouse Vuurbaak Katwijk (±550 m), Jachthaven Katwijk (±900 m), Subtropical swimming pool Aquamar (±1,1 km) & Space Expo (±2,1 km).
For information:
Voorstraat 46, Katwijk
tel. +31 714 013 047
web.
Website
Location