Campground Duinrell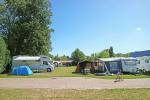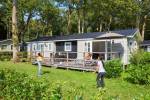 The family campsite is the heart of Duinrell. Tucked away between the dunes and the adventure park, it offers both relaxation and adventure. Swim in the Tiki tropical pool or the North Sea, walk through the extensive dune landscape or take a few spins on the rollercoaster - at Camping Duinrell, boredom is not an option.
The campsite is set amidst nature and has spacious fields. There are even a number of camping spots with private sanitation! Within walking distance, you'll find the attractions and facilities, which you may use during your stay.
The family campsite in Wassenaar South Holland is the origin of Duinrell and is open all year round. The recreational estate Duinrell is located in South Holland near cities like Scheveningen, The Hague and Leiden. The family campsite of Duinrell is also just four km from the Wassenaar beach.
A camping holiday your children won't soon forget
During the school holidays, the Entertainment team organises an engaging entertainment programme. During the summer season, from April to October, guests of the family campsite always have access to the attractions included. In summer, you can swim and splash daily at a discounted rate in the Tiki tropical pool.
For information and reservation
Search & Book
Duinrell 1, Wassenaar
tel. +31 705 155 255
web.
More information