Aqua Mundo Zandvoort - Swimming pool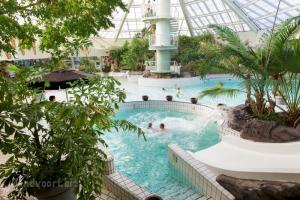 The sparkling subtropical swimming pool Aqua Mundo, located in the heart of Holiday Park Zandvoort. An ideal destination for a rainy day or a fun and sporty day out. With a wide range of water attractions and facilities, Aqua Mundo offers an unforgettable experience for both young and old.
Whether you're in search of an adrenaline rush or a tranquil swimming experience, Aqua Mundo has something for everyone. Dive into adventure with fast water slides, feel the rapids and let the waves carry you away in our wave pool. Challenge yourself on the whitewater course, or enjoy a unique movie experience in the Aqua Cinema. The little ones can safely splash and play in the Kinder-Doe-Pool, while the adults swim laps in the spacious 25-meter pool.
Accessible to everyone
The pool is accessible to everyone, not only to the guests of the holiday park. To ensure you have a spot, it's necessary to reserve online in advance.
Experience the tropical atmosphere, the warm water and the many thrilling and relaxing water attractions in Aqua Mundo, where a world of water fun awaits you. Come along and get ready for a splashing adventure in Zandvoort!
Furthermore Aqua Mundo Zandvoort is near the following sights: Jump Town (±30 m) & Baluba Indoor Playground (±30 m).
For information:
Book tickets online
Vondellaan 60, Zandvoort
tel. +31 235 720 000
web.
More information