Baluba Indoor Playground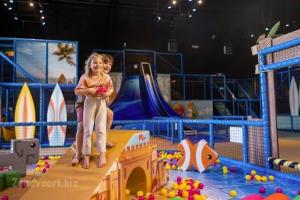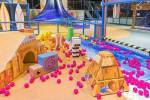 The Baluba Indoor Playground in Zandvoort is a true paradise for children. The variety of play equipment ensures that children up to 12 years old can be entertained for hours on end. It is a place where imagination and movement come together, and where they can play and discover to their heart's content.
For the very young, there is a specially enclosed play area where they can play safely. Here, they can crawl, climb and explore the world around them in a way that suits their age. Meanwhile, the older children can amuse themselves with the more challenging play equipment that stimulates their agility and creativity.
While the children are enjoying themselves in this playful domain, the parents can relax on the terrace of the Flip Flop Café.
Accessible to Everyone
This indoor playground is open to everyone, not just the guests of holiday park Zandvoort. To ensure you have a spot, it is necessary to reserve online tickets in advance.
Furthermore Baluba Indoor Playground is near the following sights: Aqua Mundo Zandvoort (±30 m) & Jump Town (±50 m).
For information:
Book tickets online
Vondellaan 60, Zandvoort
web.
More information