Premium - 6PXL - Chalet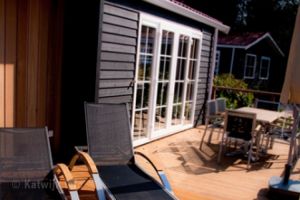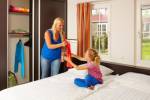 The Premium Class stands for top comfort. These are the latest XL Duingalows. These four-and six-person Duingalows have only been available since April 2012, have a modern look and, above all, offer the most space! All XL type Duingalows feature flat-screen TVs, a dishwasher, box spring beds, a separate toilet and a terrace or patio. They are all wheelchair or pram-accessible. Due to their placement at the edge of the park, this is one of the quieter locations at Duinrell.
Premium 6p Type 6PXL
The 6-person 6PXL Duingalow features a spacious living, master bedroom with box spring beds and flatscreen TV, twin bedroom with box spring beds and a bedroom with a comfortable bunkbed. An extra baby cod can be placed in all bedrooms. The kitchen is fully equipped and has a dishwasher. From the living with flatscreen TV the terrace is to be reached. A few 6-persons Duingalows have a veranda. The 6-person Duingalows have full accessibility for disabled guests. The size is 14.20 x 5.30 m.
Family camping site Duinrell
The family camping site, situated between the dunes and the amusement park, is Duinrell's origin and opened all year round. Staying at the camping site offers relaxation and adventure; you can either go for a walk in the beautiful dunes and forest or ride one of the roller coasters. Take a refreshing splash in the tropical Tiki Pool or in the North Sea. Family camping Duinrell is situated only four kilometers from the beach of Wassenaar, and also close to Dutch cities The Hague, Scheveningen and Leiden for a great day trip. Explore the beaches, forests, flower bulb fields by bicycle and discover the green surroundings of Duinrell.
Camping between the dunes and woodlands
The size of a camp site type varies from 60 m² to 140m². Whether you stay in your own tent, trailer tent, caravan or motorhome, you will find your favorite camping pitch at Duinrell. View the camping site map and choose your preferred campsite type.
Check out the different types of camping sites and book a holiday your children won't forget.
For information and reservation
Search & Book
Duinrell
Duinrell 1, Wassenaar
tel. +31 705 155 255
web.
More information