Premium - 4PXL - Chalet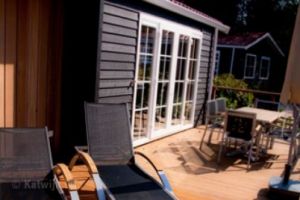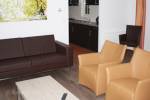 The Premium Class stands for top comfort. These are the latest XL Duingalows. These four-and six-person Duingalows have only been available since April 2012, have a modern look and, above all, offer the most space! All XL type Duingalows feature flat-screen TVs, a dishwasher, box spring beds, a separate toilet and a terrace or patio. They are all wheelchair or pram-accessible. Due to their placement at the edge of the park, this is one of the quieter locations at Duinrell.
These new Duingalows (4PXL) feature a spacious living room, master bedroom, twin bedroom, bathroom and fully equipped kitchen. They are about premium comfort and have all the mod cons, a contemporary appearance, box spring beds, dish washer, flatscreen TV in living and master bedroom, seperate bathroom and above all an abundance of space. An extra baby cod can be placed in all bedrooms. The veranda is fenced and partly covered for great nights outdoors. The 4-person Duingalows have full accessibility for disabled guests. The size is 12.20 x 5.30 m.
For information and reservation
Search & Book
Duinrell
Duinrell 1, Wassenaar
tel. +31 705 155 255
web.
More information